Thunder Lake, Aaron Provincial Park, Ontario ($32.00) August 13th
I made it to Ontario! And am camped out alone on a narrow piece of land surrounded by the lake (An isthmus? Is this what we studied in geography? A more boring class couldn't have been designed!). The campsites are lovely, private, forested sites. My initial plan today was to drive to Canora and find a vet that would give Baloo a rabies shot, a must have for entry into the United States, but the Canora office receptionist said they didn't have the time to do a rabies shot, period, not today, or tomorrow, and after that, well, she was not sure. Very unhelpful indeed, and I was really ticked off. Under my energetic prompting, she suggested that I might find a vet in Dryden, which was two more hours away!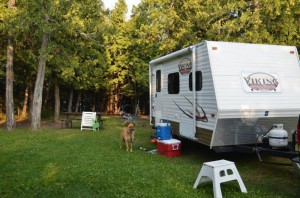 I called the Dryden vet's office and they said, sure, no worries, they could help me out – this afternoon. I arrived at the office at 4:30pm and they did the injection for $35.00 and provided me with a letter for US Customs, and the small red metal tag for the collar. They were super friendly and helpful and the vet said that if Baloo reacted to the injection, then to give him a call at home that night. I sure felt good after that!
After that I needed a place to stay. I drove to Wal-Mart as being better than parking on the side of the highway but once there I couldn't find any place to walk Baloo except for the parking lot. The roar of the traffic added to my discomfort at staying overnight a Wal-Mart and I knew that to stay was to invite a night of anxiety. I wanted to leave, but where to go? I saw a family getting ready to head out in their RV and with hope I asked them if they knew of anyplace around that was a good and safe camping spot. They knew the area and suggested I drive to Aaron Park, just a bit northeast of Dryden. How lucky, I thought, what timing that I asked them.
There is a boat launch here on the glacier carved Thunder Lake, canoe rental, swings, a level grassed area for games, two sandy beaches, swim area, and change rooms. It rained but that never hurts a good walk, and the clouds cleared away in time for a beautiful sunset. I lit a campfire and sorted out the back of my truck trying to find a way of fitting my bike in under the tonneau cover, but there just wasn't the space to do that. I was finding it a real pain to move the bike in and out of the trailer, small bumps added up to scratches in the photographed veneer of the cupboard doors, and when it's raining, it has to sit outside – it's a choice – one of us has to be outside – Baloo, the bike, or me. The bike loses every time and as a result, the chain is rusting, and so are the screws. I really love my Rocky Mountain bike and wish I had a better solution.
I talked to my son Travis who lives in Toronto and is soon leaving for the west coast to attend a wedding. I realized with disappointment that I can't enjoy the countryside here and make it to Toronto in time to get in a good visit. At the same time, my worry eased dramatically, because I had been dreading the thought of driving my truck and trailer anywhere near Toronto. This decision will allow me to take it easy and enjoy the country around Lake Superior.
Tonight a loon broke the silence out on the lake, its piercing cry louder than I've ever heard it. It's dark all around, but my fire is warm and comforting, and I sit feeling a deep peace, with no need for a book or company. I review the past couple of days, and am glad that Baloo is fine now, with no allergic reaction to the rabies shot. My rate of driving can slow down now that I am not rushing to Toronto. It's funny how those two issues kept me awake the night before from 2:30am-5:30am. My busy mind conjured up  horrible images of driving on the 401, and trying to find parking on the busy streets. Now all those thoughts have just vanished. Like most worries, they are worse at night, and fail to have strength in daytime. It's like there are two parts of the brain operating, the one at night being the negative conjurer, and in the morning, it gives way to the positive, problem solving brain.
I smiled as I remembered Mark Twain's quote: "I've lived through some terrible things in my life, some of which actually happened."
August 14th, Aaron Park, Day 2
I woke up too early this morning, and finally got up at six. With the pressure off, I decided to stay another night. I realized how overtired I was, and once at that stage, found it almost impossible to relax enough to get a refreshing sleep. It's not easy driving in new territory alone – there's a level of alertness that needs to be achieved, and maintained every minute while you're on the road. Wild animals, other vehicles passing, and being in front of you, road signs and conditions, speed, weather, construction, the shape and design of towns and cities, the status of my trailer and truck – and overall, the interest of where I am, nature in all its beauty and intriguing forms –  it all demands attention.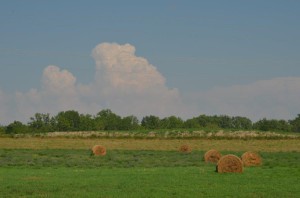 I took Baloo for a long walk and on the way found a well-maintained laundry room so I got everything cleaned up which always feels amazing. I took the time to cook my favourite breakfast of steel cut oats with all the goodies – cinnamon, shredded apple, raisins, cranberries, raisins, walnuts, and almonds, topped off with a touch of maple syrup and milk. For the rest of the day, I enjoyed taking it easy, no trips, just reading and relaxing, interspersed with lovely walks. Never have I gone out for a walk and not felt better on the return – no matter if it's raining, sleeting, freezing, boiling, day, or night.
"…a turn or two I'll walk,
To still my beating mind." (Tempest act 4, sc. 1)