Aug. 9th Thursday – Swift Current Saskatchewan ($20.00 + tax)
I am in SASKATCHEWAN,  the third province over from the west coast. I pulled in just before dark, and am now unbagging an instant caesar salad and singing along to John Lennon's "Come together, gotta be free." Yeah, right on! Strange words to that song, but I feel a whole lot of relief about being here.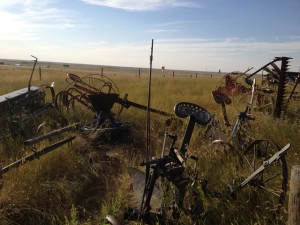 Today in Medicine Hat, it seemed like tot hot of a day to check out the town, and so I thought finding a swimming hole would be a good plan. However, when I asked people about where to swim, I heard that no dogs were allowed at the lake. Because of the heat I couldn't leave Baloo in the trailer or the truck. The temperature was supposed to go higher than yesterday, to 39'C or 102F, and it didn't cool down much last night.  I wasn't sure what to do, or whether to leave, so I did what I do best, I got busy – fixed little things and cleaned and sorted things in my trailer – always room for improvement in finding places where best to store stuff.  At two in the afternoon the heat had become unbearable and I thought I have to get out of here. As I packed and hooked up the trailer, sweat rolled down my face and after a while, I just let it drip.
Finally I was underway, but as soon as the truck started rolling, I heard a horrible clanking sound, but I kept moving, hoping it wasn't coming from my vehicles. It was though, and the next question became – which wheel, on which vehicle, the truck or the trailer? I stopped in at the park office and one of the staff came out and confirmed for me that it was coming from the truck's rear wheel. I found the number for road side assistance and once they had taken down all my numbers, they said to go to a mechanic and then call back with an estimate. I said my vehicle may not be safe to drive, and they replied that I would have to wait for a tow truck, and it could take up to an hour or more. I didn't want to wait for all that to happen so I asked the office where a mechanic would be and with the hurried instructions repeating in my head, I drove out slowly, people looking up as I clanked by. There was no mechanic on duty at the place where I had been directed, and no mechanic at the second suggestion, or third. I realized that I could drive endlessly and not find one until after they had closed for the day. And if that happened, I would have to set up camp again and start over the next morning.
On thinking that I stopped and pulled over,  wondering what to do.  I looked around for inspiration and saw a funeral home not too far away with a lone vehicle parked out in front, and I thought, what the heck, they would know of a mechanic because they keep their vehicles so nice and shiny, and I am sure, well maintained. Who's ever seen a funeral procession with the funeral car being towed? The fellow inside was young and handsome, dressed in a dark suit, and having a good chat with someone on the phone. He hung up smiling, and asked what he could do for me. I told him my problem, and he said, "I sure can help, I know a great mechanic." Relief! And then he said "Turn on this street, go left there, right there, and threw another few turns for good measure. I knew I was lost. I guess my face looked hot, anxious, and scared, because he looked at me and said, "You know, actually it's hard to find. Tell you what, come around to the back parking lot where I have my truck parked and I will lead you right to it. And he did, in his shiny little black pickup, with a big wave and smile when I was safely at the garage. What a sweetie!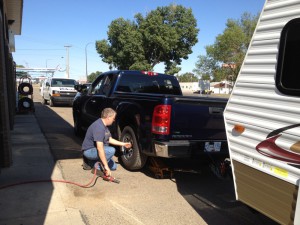 By this time, it was 4:00pm and the guy behind the desk at the garage said they probably wouldn't have time to fix it today but they would whip the tire off and see what needed to be fixed.  I stood by as the guy kneeled on the hot concrete and set up the jack. Sweat was streaming off his face as he was working right in the direct sun. He identified the problem as a tiny broken spring. They had that part in stock he said and within minutes he had it installed and the tire back on. But he said he didn't like the angle that the leveller bars were at, the ones that connected my truck to the front of the trailer, two big steel bars that when adjusted properly keep the front of the trailer level while travelling. I explained that I had changed trucks, and that the levellers had been set up for the first truck, but not the second one. The guy at the desk said he knew of an RV place just minutes away and that if I liked he would call then and see if they were able to set them up for me before they closed at 5. I said yes, and with a heartfelt thanks for their care, headed off.
At the RV place, the guy immediately set to work changing the set up, and within a couple of minutes, he too was sweating in the sun. He had me all ready to go within half an hour. Watching these guys made me realize how hard they work, and how they accept tough working conditions as part of the job, and as well, the satisfaction they get in helping people out. What would we do without their "can do" attitude and willingness to help a person out.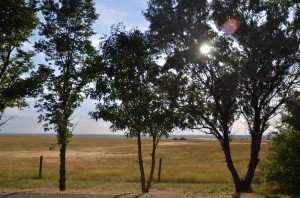 With a smile, and feeling content, I set off down the highway and because it was getting late luckily did not have far to drive. The campsite in Swift Current had been recommended to me by a fellow traveller, as the best one. Frankly, I would hate to see the others – there was noise from the highway, all night party people, big fires, dirty old washrooms. And to top it off, pay showers, but once I put in the quarter, the water was too hot to stand under for a shower.
The good thing is that I have arrived here safely, some wonderful guys helped me out, and that the temperature is 61'F 18 degrees less than at Medicine Hat.