August 12th, Sunday, Ste. Anne, Manitoba, Lilac Resort $32.00 (Around 270km from Brandon)
Mornings are the best! It means that one has survived the night with no exciting wake up calls. It means fresh ground coffee, and a whole new day of adventure waiting just outside my door. What will happen today, tonight, tomorrow? Next week? While in Brandon, I took Baloo for a long enjoyable stroll in a park that is sponsored in part by Ducks Unlimited. After that it was time to buy ice for the cooler, a latte from Starbucks, and fresh fruit to go with my cereal – the best kind of treats!
Using the magic powers of my GPS I found the local recreation complex and swam until my arms were ready to fall off – then a luxurious hot shower – all for $6.00. As I left, I paused to watch little rotund, soon to be, Brandon Wheat Kings skittering around and playing an early form of hockey, taking great swings at the puck and then tumbling onto the ice.
Today I almost made it to Falcon Lake but stopped just before Sandlords Provincial Forest – I'd run out of steam. I could hardly keep my eyes open and my back was aching. The long grey road with its hypnotic center line dashes  is so straight – it makes me very sleepy. Baloo never responds to my opening conversational gambits so it's lucky that I have an overflowing bag of audio books from the library, otherwise I would be talking to myself more than I do already.  Roiling black clouds towered over the fields in front of me and were moving at a tremendous pace, heading my way. They looked so menacing that when I  saw this campsite sign I pulled right in. My image of a "Lilac" campground – quiet grassy spots surrounded by scented lilac bushes in no way matched the reality.  This is a hyper active water park designed for families – people ride around on ATVs and there are pools and games, and a tiki bar for adults. It's way over the top – big and cheesy, which means because my kids have long flown the coop, I hate it, and the other campers probably love it, especially those with kids.
It's a challenge trying to decide where to camp, especially when I don't want to pay high fees. Quite often, the signs for campsites appear so close to their turnoffs that it's just not possible to decide if I like the name or not, (my only deciding factor) and usually I've passed them before I can decide whether to pull in or not.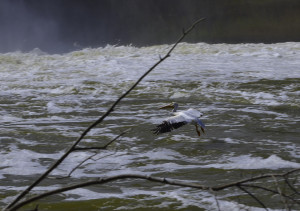 Earlier today, I stopped for a walk in a park at Portage la Prairie, and found a huge flood water spillway. There was a lot of water flowing through it and pelicans were flying towards it like mad, and then landing and floating back with the current, looking for fish, or just having fun? At any rate, they were very cool to watch. A couple of guys were fishing on the banks in the back eddies but I didn't see them catch anything.