Cranbrook, Jim Smith Lake Prov Park
The wind blew up last night, and it kept me awake. It was a short night because I wanted to be early at the Balfour ferry terminal, I had no idea whether or not there was a high demand for the crossing.  I was first in line! A true coastal girl! They don't line up here as early as we do on the coast. It was a really nice ferry, and unbelievably, free!  I chatted the whole time out on the deck with a young family from Edmonton, Alberta. They had camped in the treed area and told me they had been swarmed by mosquitoes. The youngest lad was busy chowing down on a burger, and when he wasn't chewing, he was scratching, but he seemed not too concerned over the state of his scabbed and bleeding legs.
The next leg of my journey was to drive south along the east side of Kootenay Lake to Creston. I pulled over often because the Albertans in their big trucks and trailers were hell bent on getting back home. The road got better once I started going north to Cranbrook. Tonight's campsite is called Jim Smith Lake Provincial Park, kind of a funny name for a park I thought. It is full of pine trees and smells warm and sweet.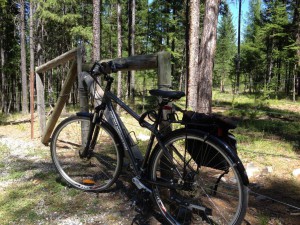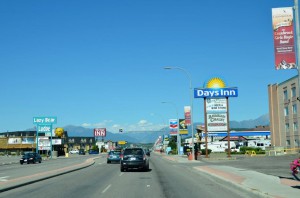 I drove in to Cranbrook for fresh groceries and bought my dinner – the Safeway deli clerk suggested salt and pepper wings combined with a vegetable salad – delicious, and oh so simple to prepare. After dinner I lit a fire and sat back with a cup of tea – and waited for the stars to come out – it was lovely. I am always reluctant to leave the campsite where I am at, but once I arrive at the new place, I am so happy that I moved on to explore a new place. I did it, I think, I really did ok. And without thinking, I said the words out loud, Thank you for keeping me safe. 
Baloo learning how to drink out of a fountain.