The weather forecast for today said it was going to be brutally hot so I decided to take an air-conditioned trip to Penticton.It was a gorgeous drive, around 60km, through Oliver and past the beautiful Skaha Lake, the rich green of orchards and vineyards, and Okanagan Lake. It was like going home for me because I had grown up in Kelowna, only thirty kilometers further north. When I arrived in Penticton, I found out that my purse was still stashed safely away in my trailer, so the lack of money was going to limit my activities, especially lunch. I went to Canadian Tire, and they worked on my back up camera for an hour while Baloo and I hung out in hot sun of the parking lot, but they had no luck, there was just too much static. They wouldn't take it back and give me a refund or credit because I didn't have a receipt with me, so my choice was to chuck it in the garbage or take it along with me so I am sure you can guess what choice I made.
As I drove back to Osoyoos I thought how glorious it felt to be free and not be working in an office. I loved the open road, not knowing what I was going to be seeing around the next bend, and having the time to explore what I wanted, and where I wanted. I felt the exultation in not having a destination, not having a time frame. Really and truly, I was freer and felt more open than I had ever been in my life.
****
In the late afternoon I drove to the other side of the lake to check out the provincial campground Haynes Point. This very popular park has 41 campsites and sits on an isthmus, widened with rock from the Dividend mine site, that juts into Osoyoos Lake. I talked to the park operator, and she told me that if I had arrived in time, even though the sites were full, I could have camped in the overflow area. This was the first time that I became aware of this, that additional space is sometimes available at campgrounds, even when the online booking system says it is full.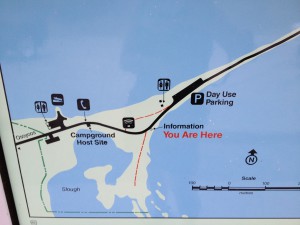 This was a much nicer place to swim than the other side, less boats and correspondingly, less wash and exhaust. At the dog beach I met a young couple floating around on air mattresses, and their lab swam lazily around them. Baloo on the other hand never swam no matter how much I encouraged him, but I thought this might change in the warm lake water so using a floating orange ball I kept chucking it just out of his reach. The young woman joined in and for the next hour kept floating in towards Baloo and tempted him with various floating dog toys. We all laughed and clapped when he got in too deep despite himself and had to swim. He paddled madly around in a circle and streaked in to shore. At least I knew he could swim.
Another storm rolled appeared and rolled up the valley around cocktail hour, and I realized this must be an almost daily occurrence. The wind whipped up the lake, and I was glad to not be in a boat. Even after the storm it took a long to cool down after the hot day, and I imagined my trailer with an air conditioner or at least, a fan. Especially because it was so noisy with nonstop foot and vehicle traffic outside my windows. It was summer time, party time in the Okanagan, and it was obvious that my expectation to sleep at midnight, or an hour or two, or three, past was unrealistic. It was definitely time to move on.