July 26 Thursday – Manning Park to Osoyoos
This morning I opened my eyes, and six inches away were Baloo's unblinking liquid brown eyes staring at me. I guess my new alarm clock was telling me it's time to get up. I made coffee with my new bod, which is fast and easy. Just boil the water, pour over the grounds, wait five minutes, and it's ready. After a walk I packed up quickly, making sure that everything breakable was stowed away safely, and then I walked around and double checked everything. I can't wait to leave Manning Park and its hordes of mosquitoes. It can be so dreary here when the clouds sit heavy and grey above the trees. The hiking trails would have to wait for another trip.
I didn't bother with breakfast as my stomach felt like it was all tied up and had no space left for filling. Baloo was ready and eager to go; he jumped into the front seat as soon as the door opened. Perhaps he thinks I may forget him sometime. I was moving too fast, feeling jittery, but at the same time, feeling tremendously excited, and happy. I loved my new truck, I felt so much safer in it, and I was finding my trailer to be totally comfortable, and I loved its look, too, it was so cool. And the best part was that ahead of me lay another day of adventure. I checked the odometer before setting off, and it read 48,556km(30,172mi).
******
Sunday Summit (el. 1,284 m or 4,213 ft) is the second-highest point on the highway between Hope and Princeton on the Crowsnest Highway (#3) and the climb begins just after the eastern boundary of Manning Park. I drove with care, focusing on all speed signs, going up and going down, a worry niggling in my brain that lost in reverie t I might miss one. My fear of going into a corner too fast with a trailer is still fresh in my mind.
In Princeton the traffic slowed down as flashing police and ambulance lights showed up ahead. Finally we came to a complete stop. Ahead there was a big RV and a car that had been involved in an accident up ahead and the road was totally jammed up so I decided to pull off for some food at the next light. Hamburger time at the A&W for Baloo and me. Because I had my bike along, it always goes into the trailer last, and so it's difficult to get in and access the fridge to make lunch without moving a lot of stuff. I could see quite clearly that if I didn't start packing healthy food to eat while travelling, I would be turning into a Mama burger myself.
After the mountains, the hillsides were spotted with sagebrush, and then the land opened up like an oasis into the beautiful orderly lines of vineyards and fruit trees. I stopped in at Keremeos for fresh peaches and plums and sitting by the fruit stand, I got out the map to decide where to go next. I was glad to feel the sun's warmth, it was a whole different feeling from the coast.
I was at a crossroads here, 3A leads northeast to Penticton, while 3 carries on to Osoyoos. I walked over to the tourist info booth and asked about camping spots in Osoyoos. They told me that Haynes Point provincial park was full and that it would be a challenge to find a spot anywhere at this time of year. This is the moment when you find out what that the person behind the information desk is really made of. They either look you in the eyes, see your hot tired face, understand your need for help, and take the next step and start calling camping grounds to help you out or, they just stand there nodding, repeating what they have already told you until you are ready to scream back with "Do you think I am deaf?". This time I was in luck. The young lady behind the counter took one quick look at me and then picked up the phone and within five minutes had snagged me the last spot available at Island RV Park which was located beside Osoyoos Lake.
When I pulled in and stopped at the RV Park office, it was 77 degrees F out and the pavement of the RV park smacked the heat back at my body with an impact that made it feel as if I had been hit. The owner was behind the counter and she asked me if I needed help backing in as the spaces were tight. I was really smart in that moment and said sure, that would be great and she called up her husband on the radio phone. She was right, the spaces were tight, all 110 or so of them, with vehicles parked in rising tiers packed like smoked oysters in a tin. The fellow asked if I wanted him to back in my unit, and I said sure! My space was hot pavement and concrete, adorned with a picnic table and backed by a huge slab of concrete wall that rose behind me. The parking fee for this little treasure was almost $50.00 per night.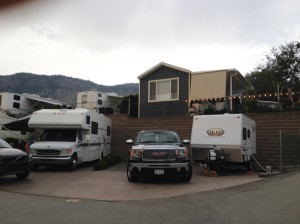 My next step was to plug in the trailer to get power and right away I was in trouble. The power cord end had fallen inside its hole in the trailer wall and because of the size of the hole and the pointed plastic tips that circled the hole, I couldn't reach my hand in to grab the end, or I could, but it hurt so much doing it that I stopped. I went into the bathroom to see if I could access the cord from under the bathtub, but that didn't look possible without a whole lot of screwing around, and even then I didn't think that it would open to the power cord. I went outside, hot, tired, and upset, sure of only one thing, that I didn't have a clue as to what to do next.
Within seconds, I heard someone whistling, and I looked up to see a man in red overalls walking along the road. He smiled and said, "Hi, how are you doing?" I replied, "Not so good, I seem to have a problem here that I can't solve." It was brutally hot and he looked like he had put in quite a day. I would certainly have understood if he said, "Oh that's too bad, well, best of luck!" and kept whistling as he went on down the road. But he didn't, he came right over and listened to what had happened, and then without a second thought, rolled up his sleeve and then shoved his much bigger bare arm right through the hard plastic, down inside, and retrieved the end of the power cord. He suggested that I tie a line on to the end so that it wouldn't happen again, and then he took off, whistling again. I watched him as he left, thinking how amazing people can be, and I felt immensely grateful that I had just met one of the special ones.
After I had finished setting up, I could hardly wait to cool off with a swim in Osoyoos Lake but first I took Baloo for a cool down dip. I found a small beach area away from the public swimming area and waded in with him holding on to the leash as there was a busy road running by the lake. The water smelt of gasoline fumes and we were buffeted by waves rolling in from the constant passage of high-speed boats, and sea doos, many of whom heralded their existence with base oriented music that carried over the sound of their engines. Baloo didn't mind, he had a great time wading and finding out that the lake didn't taste salty like the ocean.
At dinner, a thunderstorm rolled down the valley, and I realized that its arrival was why it had been so muggy. Gradually the boat traffic slowed down on the lake as people stopped to eat and drink, and when the storm cleared there was a beautiful sunset. This was my first experience staying at an RV park by a lake and I wholeheartedly disliked it, the hot pavement, the tiny space where you are squeezed in beside the next RV and little if any green living things. When I start to think about it I guess my idea of camping by a warm lake is probably about 40 years out of date, maybe more. I wondered if I was too late.