Tuesday, July 24, 2012 – Camping in Zeller's parking lot
So that's how I ended up on my first real day of travel on the mainland, 75km from my starting point in Surrey, sitting last night in the hot and deserted Zeller's parking lot having a power picnic that consisted of lukewarm root beer and salt and vinegar potato chips topped off with watermelon and a cheese bun.
During the appetizer course, a short skinny security guard appeared and surprised Baloo who went nuts barking. As I lunged to grab the dog, my precious hoarded chips spilled over on to the pavement. The guard looked nervous, and he yelled: "What are you doing here with that trailer and no vehicle?" And then before I had a chance to answer he yelled again "Does the dog bite?" I yelled back "No he's all bark" and to Baloo, because I was frazzled "Shut up Baloo, just stop that barking!"
I told the guard what was going on and that the dog was just being protective, that he reacts to people who wear plastic vests. The guard ended up saying that he wouldn't ticket me if I was staying only one night. Ticket? I didn't even know they gave out tickets. What was I supposed to do, hitch myself up to the front of the trailer and trot down the highway at 80km per hour? I thanked him though, respectfully, after he repeated the parking policies for the third time and wished him a polite goodnight.
When I got back after Baloo's final nighttime walk I found that the lights in my trailer had died, I had left the fridge on electric, and I guess it had sucked all the power from the battery. I now had melted ice cubes and a puddle of ice cream. Not to worry, those parking lots have big, night defying lights, and there was no chance of it being dark inside my trailer in that location. I was exhausted from the day's events and went to bed but trying to sleep parked right alongside the major intersection was a challenge, there was a constant roar of heavy trucks, fast cars, and motorcycles.
As I lay there about as relaxed as a board, my arms clutched to my sides, I replayed the scene when the service manager told me about the truck brakes and all that it needed in repairs. At first, I was incredibly red hot angry at the mechanic in Victoria that I had paid to get the truck ready for my trip. It had cost a couple of thousand dollars, and he had assured me that the truck could put in another 100,000 miles, no problem, that it was all checked out and good to go. Now, however, I realized that actually I had been incredibly lucky, that the brakes had failed on the flat part of the highway and not later when I was travelling through the mountains. It made me sick to think about how close I had come to something terrible happening.
After the anger had simmered down, I stood by the service desk thinking about what to do next. I felt torn – was this a message to me, telling me to stop, to turn around and go back home, to do the smart financial thing, the wise choice, to get out my resume and find another job? Or was it simply a test, to see how serious I was about the trip? It took me all of about five minutes to check out how I felt, and to ask the question, "Have you any used trucks for sale here?" The manager smiled and said, "You bet. I think you are making a wise choice." I had liked him from the start. He said he had grown up in Chilliwack, loved his town, and he liked the pace out here away from Vancouver. He was friendly and relaxed, and I thought this is how people who stay in their home towns live and go about their work.
I walked out amongst the trucks with beautiful Claire, the blonde high-heeled saleswoman, who does not mesh with my long-held image of a used truck salesman. Right away, I fall in love with the prettiest truck in the lot, it is dark blue, has lots of chrome and is gleaming in the sun, a 2010 GMC Sierra, a V8 that will inhale the gas, but take me anywhere with ease. I sat in the driver's seat, and the comfort of it was overwhelming in comparison to the old Ford. Clare asked me through the open window if I would like to see the engine. I laughed and said, "Hey I'm ok without doing that – as long as there's one under the hood, that's good enough for me. She laughed too. "You are not the only one that feels that way," she assured me, "a lot of guys look under the hood and they don't have a clue about what they are looking at either, engines are so sophisticated nowadays and with all their electronic and computer parts there's not much home fixing that you can do anyway." I would live to regret that decision.
The next few hours passed in a blur of paperwork, which included an extended warranty decision that adds on a big chunk to the price and the signing of documents. They promised to get the new truck all ready for me and transfer all of my belongings and for wheels, they sent me away in a brand new baby blue convertible.
As soon as I got back to the Zeller's parking lot, I pushed the button that rolled the convertible top down, released Baloo from his bondage inside the trailer and once he had done his business, put him on a blanket in the passenger seat. He sat there looking like a noble prince as I weaved slowly through the parking lot. My grin must have been huge because almost everyone we passed smiled back at me. It's going to be ok, I thought, my world has tilted, but it is all back on track now. I would pay off the loan as I travelled, and once back to work, I could always sell the truck.
******
2nd day in Zeller's parking lot and no ticket yet
The evening sun was beautiful and warm so I just had to go out and spin my fancy set of wheels, and as I still didn't have any power for cooking I had what could be called dinner at the DQ. Along Vedder Road, I found a lovely 8km walking trail beside the river, which is part of the TransCanada Trail. There is a big park and an off-leash dog area so Baloo bounced off some extra energy, and I had fun meeting some new people. I would never have seen this beautiful place if I hadn't had truck trouble.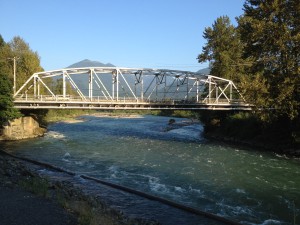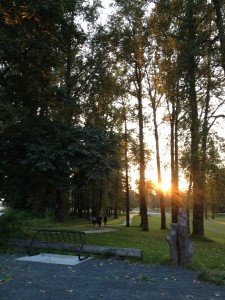 Sleep was still a distant wish when I heard a loud truck drive up and park right next to me. Baloo started to bark. This is what I had been warned against – don't stay in department store parking lots, all sorts of bad things can and do happen. Teenagers throw eggs, bar people come out looking for trouble, and even worse…I stopped right there. If you are in a trailer, you can't exactly turn the key and take off for safety. In my case, there was a lot of ground between the trailer door and the truck door, and of course, at this moment, I didn't even have a truck.
A radio blared western music, doors opened and slammed, there was a loud crash. Carefully I sat up and spreading the blinds an infinitesimal amount, I peered through and saw an old white pickup with a ratty camper on top and a ramp extending from the back door down to the pavement. An older man in beige coveralls comes around the corner and stared hard, seemingly right at me. I dropped the blind. I couldn't believe it. This massive wasteland of a parking lot, empty except for me, and this old guy decides to park right beside me and set up camp, at 2:00 in the morning. Who was he, and why is he right here? The fear drains away and anger pours in. As I lay there with sleep well out of range, I thought that I had never imagined my trip would start like this, and I wonder what the heck else awaits me down the road.